Trees and grass in Binh Chanh District have lost their color due to environmental pollution; proposals to withdraw investment licenses from the enterprises responsible are being in discussed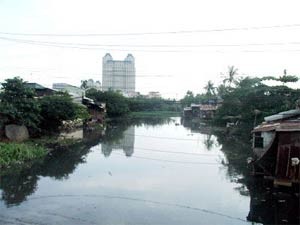 A section of river in Ho Chi Minh City , which is polutted by waste water from plants and factories

On October 1, Mr. Nguyen Trung Tin, deputy chairman of the HCMC People's Committee, together with relevant authorities visited Le Minh Xuan Industrial Zone's neighboring areas in Binh Chanh District to inspect the levels of pollution there.

The areas smell strongly of pesticide. A number of businesses in the industrial zone have no waste water systems, nor are they connected to the zone's sewage system. Instead they run their plants' waste water directly into the canal, thus permeating the air with the scent of chemicals.

At present, 35 enterprises in the industrial zone have not yet had their waste water systems linked with the zone's sewage systems. Among them, ten do not even have their own waste water systems.

Mr. Vu Van Hoa, head of the Management Board of the HCMC Export Processing Zones and Industrial Zones proposed to withdraw investment licenses from the two major violators: Green Environment Ltd. Co. and Thai Son Ltd. Co.

Hoa also proposed that as of October 25, any enterprise that has not yet separated its waste water and rain water systems, or has not yet linked their waste water system with the zone's sewage systems, will have their investment licenses withdrawn.