Enterprises in Ho Chi Minh City are struggling to survive ever since prices of commodities escalated.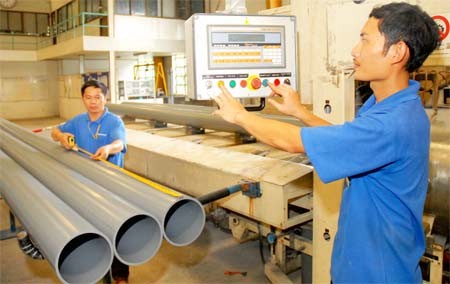 Workers make plastic pipes at Binh Minh Plastic Joint Stock Company in Ho Chi Minh City (Photo: SGGP)
Local enterprises saw a standstill in their business and production activities in 2008 due to the global economic recession. After they recovered by 2010, they were confronted with continuous hikes in interest rates, foreign exchange rates and prices of fuel and power.
Do Thanh Hung, director of Viet Trung Long An Paper Company, said enterprises have faced many more difficulties this year than previous years.
He said, so far the paper industry has suffered a rise of 25-30 percent in material costs, but they cannot raise their selling price because their buyers are also facing financial difficulties due to the price hikes.
For the time being, producers have to cut costs to maintain production, Mr. Hung added.
He said right after the fuel prices were hiked by VND2,000-2,800 per liter on March 29, transport fares and material prices also soared sharply, causing producers to balance their profits.
Do Duy Thai, Chairman of Pomina Steel Joint Stock Company (POM), said the current economic situation has adversely affected heavy industrial enterprises.
He said local steel companies face more difficulties than their counterparts in other countries, due to increasing foreign exchange rates and lending interest rates.
In addition, domestic raw material for making steel can only meet about 30 percent of the demand and steel producers have to import the remainder. Therefore, the current increased foreign exchange rates are troubling steel firms that have to import raw materials, he added.
Mr. Thai said POM could anticipate the difficulties, so it has set this year's growth rate at only 10 percent over 2010, while the rate was 20 percent in previous years.
Nguyen Thu Hang, director of Hoang Long Seafood Joint Stock Company, said because of the many price hikes in daily life, her company had had to increase salaries of workers, together with a new raise in minimum wages as of May 1 in line with the Prime Minister's regulation. The new upgraded salary hikes will now add to the financial burden of the company.
Le Van Chung, Chairman of Vietnam Cement Industry Corporation (Vicem), said that with seven projects currently under operation, the company estimates to pay a debt of up to VND3.2 trillion in 2011, which is equivalent to the amount needed to build a big cement plant, due to increasing interest rates.

Solutions
To maintain production, enterprises have had to resort to many measures to avoid losses. Many of them have expanded business activities and reduced production costs by improving production technology and management efficiency.
Nguyen Bao Lam, general director of Phu Thanh Mechanics Company, said his company has boosted marketing to seek more foreign buyers.
Nguyen Van Lai, head of the HCMC Industry and Trade Department, said that to resolve difficulties faced by enterprises, the State Bank of Vietnam should consider and adjust lending interest rates to less than 14 percent per year, because the high interest rates are inconveniencing enterprises unable to expand production scales, change equipment or buy raw materials.
Enterprises that import essential commodities and materials for export production should be given priority to buy foreign currency, he added.
Small and medium-scale enterprises should be offered favorable conditions to get access to loans at reasonable interest rates.