Equitization of State-owned enterprises has helped create a new management system making Ho Chi Minh City-based businesses more dynamic, efficient, and suitable to a market economy, Huynh Trung Lam, deputy head of the city's Board for Business Renovation, said.

Equitization – the privatization of state-owned companies – requires businesses to improve their self-discipline while strengthening their financial transparency and public profile if they are to succeed in a market economy, he explained.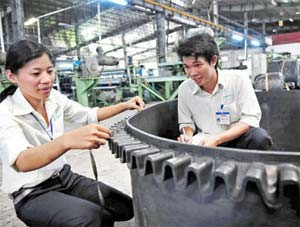 Workers at the HCM City-based Ben Thanh Rubber Joint Stock Company where the average income has now increased to VND3.7 million per month compared to just VND1.7 million in 2007, prior to equitization (Photo: SGGP)
Under the watchful eye of shareholders, equitized companies are also made more responsible and law-abiding, Lam said.
After privatization, many State-owned enterprises see their finances grow healthier, their competitive edge strengthen, and their ability to integrate improve, he added.
The Cho Lon Water Supply Joint Stock Company, for instance, has increased its employees' average income from VND4.72 million (US$262) in 2006, before equitization, to VND5.36 million in 2007 and VND5.76 million ($320) in 2008.
The number of water meters installed for customers has now increased to 160,000 from 120,000 in the period before equitization, but the company's workforce for this service remains unchanged, at 350 staff members, said Pham Manh Duc, the company's director.
"To meet shareholders' expectations, we must try our best to gain the highest possible operating results. We must seek solutions to cut down costs and increase profits," Duc said.
Similarly, Nguyen Van Tho, general director of the Saigon Industrial Corporation (SINCO), said that following equitization, his company's growth rate has increased drastically.
In September, despite impacts of the global economic crisis, SINCO saw a year-on-year growth of 65.25 percent and in the first nine months of this year, the growth was 35.7 percent.
He partly attributed SINCO's good performance to the independence it experienced after being equitized.
From 2002 to June 30, 2009, more than 300 HCM City-based businesses were equitized, according to the Board for Business Renovation.
Reports from equitized businesses show that after going public, their charter capital, sales, average income, tax payments and after-tax profits increase markedly.
Equitization has also given a boost to the development of the stock market, said Lam.
To date, 24 HCM City-based joint stock companies, or 9.16 percent of the city's equitized businesses, have been operating on the stock exchange with total market capitalization worth over VND1.957 trillion (US$108.7 million), Lam said.
If the Government had not implemented its equitization policy, it is likely that many businesses would have suffered heavy losses and debt due to poor management and inefficient operation, said Dr. Tran Du Lich, a member of the National Assembly's Economic Committee.