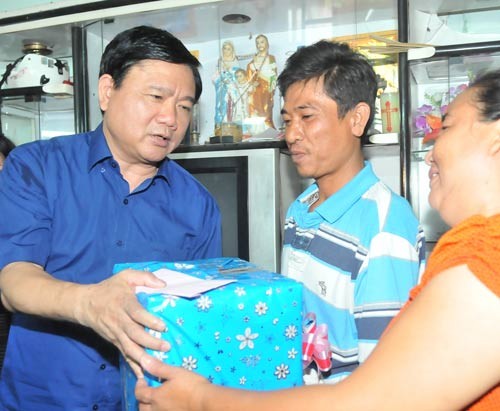 HCMC Party Secretary Dinh La Thang presents gifts to a members of a household in a canal in district 8 (Photo: SGGP)
Dinh La Thang, Secretary of the local Party Committee and member of Vietnam's Politburo, and leaders of related agencies yesterday liaised with People's Committee in Ho Chi Minh City's District 8 over evacuation of residents living along canals in the district.

The Party Secretary asked related agencies and the district administration to find out shelters for households who were evacuated over slums in the city for the city's beauty. The authority will assign enterprises to build condo and the city will give empty land to enterprises to carry out the project. " We will not loan ODA if both government and enterprises can implement this project, said Mr. Thang.
Concerning to flooding in the district, Mr. Thang questioned director of the Anti-Flooding Program Operation Center, Nguyen Ngoc Cong and asked Mr. Cong to solve the problem.
As per the district People's Committee, currently, the district has over 9,500 houses in the canals mainly in Tau Hu, Lo Gom, Doi. Approximately, 1,100 houses lying totally in the canals and just some of them are along the canals. Most of them are slumps which were built illegally; accordingly, they have no electricity and water clock. They have been living in poor hygienic condition for many years.
To sum up the meeting, Mr. Thang asked related agency leaders and the district administrators to pay attention to lives of inhabitants along canals whose children dropped school early to earn money. Government must find out new shelters for them, not let people stay in such polluted places, said Mr. Thang.
After visiting the city's water improvement project in the Tau Hu-Ben Nghe canal and Doi, Te canals, Mr. Thang came to some households along the canals to present gifts.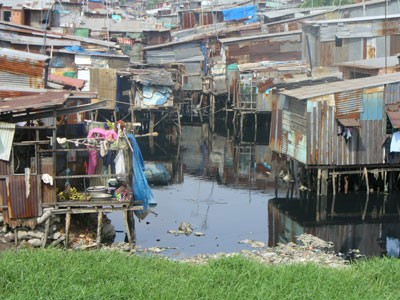 Slupms in Tau Hu canal in district 8 (Photo: ANh Quan )