Districts and wards in the city have a shortage of young staff members in key positions. To cope with the shortage, Go Vap District organized a competitive examination at the end of 2006 to recruit officials for the Executive Board of the District Party Committee, a model for the task of luring young university graduates to become government workers.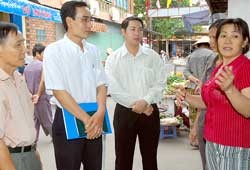 Le Hong Sinh (2,R), chairman of Ward 8, Go Vap District, talks with people in the community
Go Vap was the first district to organize such an examination for recruiting young public servants for its human recourses. Under the examination, passed candidates would be offered necessary trainings to become government officers in the management machinery of the local government. 

Out of 274 candidates taking the examination, 129 passed, including six party members. They went on to become local officials and were assigned to vacant posts throughout the 16 wards in the districts, including 4 newly-established ones. The candidates' average age was 26.7 - the age at which people are thirsty for knowledge and are ready to adapt themselves to new styles of working.

Notably, the six party members were appointed to key positions in different wards. At present, one is a party committee secretary, another is a standing party committee secretary and the other four are vice-chairmen in people's committees. The remainders are now working as accountants, registrars, and filing, statistical and cadastral clerks.

Le Hong Sinh, aged 30, was appointed as chairman of Ward 8 People's Committee. Just a few days after undertaking the task, he personally went to people's homes within the ward to find out about their living. He now regularly gets in touch with local people to learn about their difficulties and to try to find a way to help them. For problems beyond his ability, he works with the senior officials of the Ward Party Committee to find solutions to them or listens to retired cadres' opinions or advice. By doing so, he has overcome many challenges and obstacles and gradually won the local community's trust.

Like Sinh, Huynh Thi Dam, who was appointed to deputy standing secretary of Ward 6 Party Committee, got quickly acquainted to her new task thanks to her inquiring mind and enthusiasm for the job.

After six months of coping with challenges and hardships, the candidates said that they really like their jobs with strong attachment to the local community and decided to sign long-term employment contracts with the city government. Nine resigned, four gave up and three failed to meet the requirements of the task assigned.

Mr. Tran Van Khuyen, deputy standing secretary of Go Vap District Party Committee said, "This is a promising signal as we just expected that 70% of the passed candidates will remain. However, it turned out to us that only 16 passed candidates, 12% I mean, quit their jobs. Some of them live far from their offices, others found more suitable jobs, and the others couldn't stand their job pressure."

To prepare young staff members for the 2010-2015 term of office, the Go Vap District Party Committee now has a plan to train 14 public servants below 35 to become members of its Executive Board, accounting for 21.88% of the estimated total members of the Board. However, these public servants will grow into 39 or 40 by 2010, not to be quite so young as expected. To ensure a proportion of 10% of young government officers under 35 in the Executive Board, the District Party Committee is now putting their trust in the job maturity of the 113 young public servants working throughout the 16 wards of the district.

According to a further training scheme for the 113 young public servants, by the end of 2007, the District Party Committee will check these young public servants' qualifications based on their performance and achievements. Any public servant qualified for being a would-be member of the Executive Board will be entitled to an 18-month advanced course in political trainings. After that, they will be appointed to posts where they can contact regularly with the members of the Executive Board to learn from their work experience.

By doing so, the District Party Committee hopes it will have adequate able, young and dynamic staff members for its 2010-2015 term of office.