The Department of Transport and state-owned enterprise Saigon Cooperative Mechanical Corporation (SAMCO) yesterday convened a meeting about Compressed Natural Gas (CNG) - methane stored at high pressure, which is used as an alternative fuel for gasoline, diesel, or propane in transport for the South region.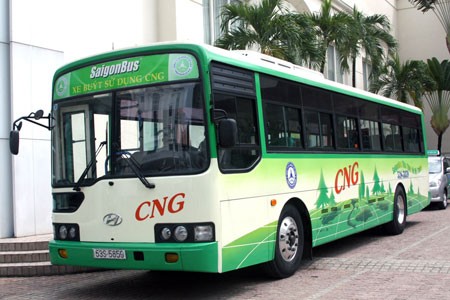 More CNG-fuelled buses will travel in HCMC (Photo: SGGP)
The goal of the meeting is to share experience in using environmentally-friendly fuel and a petition of strategies for developing public transport and to convert available bus fleets to CNG will be sent to the government.

Deputy Director of the municipal Department of Transport Le Hoang Minh said that most of  2,700 bus fleets in 136 routes are using diesel and releasing polluted fume; just 137 buses using CNG, accounting for 5 percent.

As per the roadmap, from July 1, 2017 all bus fleets must meet vehicles emission standards. Accordingly the city will purchase additional 1,680 new bus fleets. The Department of Transport will make more policies to facilitate enterprises to invest more in manufacturing environmentally-friendly buses.
The city targets that by 2020 the public transport means must meet  20- 25 percent of travelling demand along with fuel- saving buses and environmentally-friendly vehicles.

Most of experts and officials supported the CNG-used bus project and suggested the Government to fund the project because of huge investment for these bus fleets.