Fahasa, a leading book distributor in Vietnam, plans to have between 100-120 bookstores cross the country with a focus in northern provinces by 2020.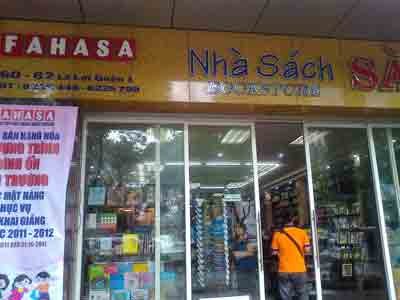 A book store of Fahasa in district Le Loi (Photo: Bao Uyen)
The target was unveiled at a ceremony organized by the Ho Chi Minh City-based Book Distribution Corporation to mark its 35th founding anniversary of and receive the Independence Order, third class, in Ho Chi Minh City on August 3.
Selected as one of top 500 Asia-Pacific retailers by the Retail Asia magazine, listed among top 10 retailers in Asia and top 10 Vietnam , Fahasa currently has five book centers and 56 bookstores nationwide.
It has partnered with nearly 2,000 suppliers who are foreign and domestic publishing houses, book, communication, audio-visual companies and schooling equipment and kid toy companies.
The company earned a turnover of 1.25 trillion VND in 2010 and expects to reach 1.5 trillion VND this year.