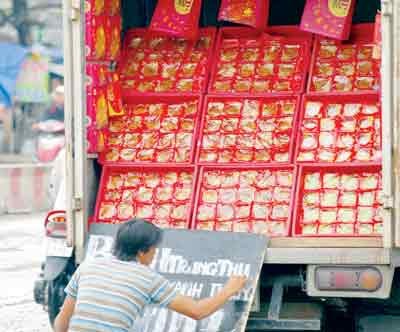 A street vendor in Huynh Tan Phat Street, District 7, is writing advertising for moon cakes in his truck ( Photo: SGGP)
Early in the moon cake selling season, businesses that baked moon cakes for approaching the Mid-Autumn Festival on October 3 this year, were wondering how many cakes customers would buy this year. However, they are up against some street vendors who are selling fake cakes, which are baked in small bakeries and repackaged into boxes of well-known brands.
With the intention of defrauding customers, some traders decided to sell under several popular brands.
For instance, Nguyen Thien Phuc, resident of Nguyen Kiem Street in District Phu Nhuan, HCMC, discovered that his Kinh Do moon cakes contained two genuine cakes and two inferior Van Le Dong Khanh cakes.
He took the cakes back to the shop. After a long argument, the sellers agreed to change, saying that they accidently put Van Le Dong Khanh cakes into the Kinh Do box.
In another case, Le Thi Thi, from D1 Street in District Binh Thanh, found traders placing low quality cakes in Kinh Do boxes.
The situation has been seen in various places nationwide, said Phan Van Thien, deputy director of Bibica Corp., one of Vietnam's leading confectioners.
Substandard cakes are disguised like their genuine counterparts and put in shop windows. Customers will be deceived if they do not realize minute details between high and poor cakes, he said.
In addition to substituting high quality and substandard cakes, vagueness of brand and intellectual property violations also take place.
On September 5, HCM City's market management team 3A discovered a moon cake shop in Nguyen Tri Phuong Street, District 5, with 45 Thanh Do boxes with the Chinese character 'Nguyet' (Moon), which has been registered as a trade mark by the Kinh Do Group.
The shop owner explained that his company had just been established and could not print boxes in time, as such his employees got the Kinh Do boxes from Phung Hung Market and stamped the name of the company on.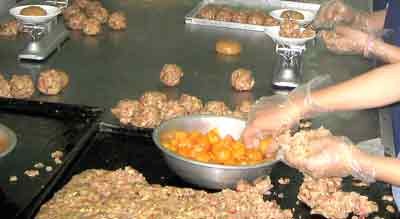 Moon cakes made in small bakeries (Photo: SGGP)
He says he was unaware he had broken the law.
Famous bakers have advised customers to check details on cake boxes because fake products have some incorrect information and do not have production and expiry dates and clear baking sites.
Well-known bakers want relevant agencies to crack down on illegal production of substandard cakes, helping customers from losing money and protect confectioners' brands.