Three pedestrian flyover bridges, across East West Highway, between Tan Kien Junction in Binh Chanh District till the city downtown area are showing visible cracks in construction and depression in some parts.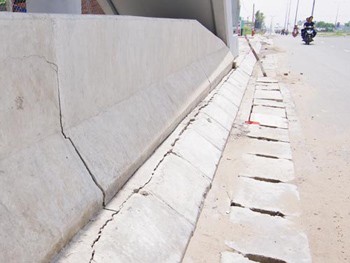 Long cracks are visible along the flyover on East West Highway (Photo: Nguoilaodong)
The flyovers # 1, 2 and 3 have several cracks in some places and depressions as deep as 15cms. The pavements near the stairs leading to the flyovers have sunk by 7cms.
Pham Sanh from the HCMC University of Transport said that while constructing the three flyovers, the contractor did not compress the soil in the ground with stakes, resulting in the present depression.
Luong Minh Phuc, director of the management board of traffic construction and urban projects says the situation is being examined to determine the exact cause and find solutions.
East West Highway opened to traffic in September 2009. Along the highway, three flyovers are showing faulty construction out of the nine existing pedestrian flyover bridges.
Related article:
SGGP readers: trucks not cause of cracks on road