According to the report, in early morning of May 25, the inspectors of cultural and social of District 1 in coordination with the relevant units of Police of District 1 conducted a surprise assault on restaurant One Hundred and Ten on Tran Quang Khai street, Tan Dinh Ward, District
When the police entered, the security guards and employees of the restaurant tried to ring the alarm but were controlled. In the restaurant even at this time, there are loud music in many rooms of the restaurant.
Inspecting the VIP rooms of the restaurant, the police discovered and caught in the act dozens of female waitress strippers serving guests. Some female attendants showed signs of drug abuse.
After the inspection, the functional force punished the manager over several faults of the restaurant such as carrying out unlicensed karaoke business, pornographic services, operating beyond time regulations...
Interrogated at the police station, the female attendants initially confessed that they didn't sign contracts with the restaurant owner, and they only received "bonus money" from guests to earn their living. In case the guests required, the hostesses would "go forward" with the guests to the hotel (for prostitution service).
At the same time, the functional forces also raided a hotel on nearby Tran Khac Chan street. In one room of this hotel, police caught two couples having sex.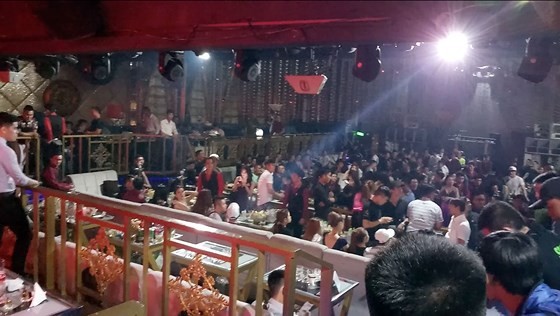 Police raid the DC Club bar. (Photo: Chí Thạch)
Both girls claimed to be employees of One Hundred and Ten Restaurant. When the customers wanted sex, these girls would "serve them" for VND2 million per turn, they admitted.
The case is being investigated thoroughly.
On the same day, dozens of policemen from the 6th anti Criminal Police Section of HCM City Police, in collaboration with the Cultural and Social Inspection Team of district 1 checked the DC Club bar at 148 Cong Quynh street.
At that time, there were more than 300 people dancing in the bar. Detecting the police, hundreds of them tried to escape and exit outside but they were blocked by the police. The players at the VIP tables of the restaurant tried to find ways to throw away the white or pink bags and pockets... which were supposed to contain drug.
Examining a group of VIP clients about 10 people, the police discovered a young man carrying a knife and a bullet of R16 gun. The police then took him to the station.
After the inspection, the police also brought 70 people who were suspected of using drugs, criminals or without identification cards to the police headquarter.
Police then made a record of the bar's some administrative violations such as overtime operations, letting customers use drugs...
At the police station, via a quick test, seven people were proved positive for drug.