Le Duan Boulevard, just in front of the Re-unification Palace in Ho Chi Minh City, has been lit up with an orange color during the night for the time of Christmas and New Year celebration.
This street lighting, which will last until Jan. 5, 2010, is part of a program carried out by mobile phone network Vietnamobile.
The operator is organizing festive activities at April 30 Park, located on the boulevard, in the middle of the Re-unification Palace and the Notre Dame Cathedral.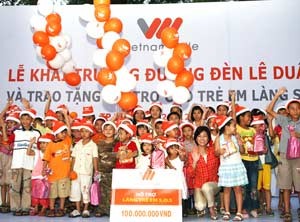 Children from the SOS Village Ho Chi Minh City join a ceremony Vietnamobile held on Dec. 20 to present VND100 million worth of cash and gifts to them
The festivities include a Christmas Color Night, which is a light performance featuring Xmas images and melodious church songs.
The New Year Festival at the park will take place from 21:00 to 24:00 Dec. 31, with the participation of well-known singers Ho Quynh Huong, Ha Anh Tuan, Phuong Vy, rocker Anh Khoa and others.
Between now and Jan. 5, Vietnamobile provides free voice calls at phone booths at the park so that the general public can send out Christmas and New Year wishes free of charge.
The festive program also includes a cell phone photo contest for a trip for two people to Hong Kong, a twin SIM package and other prizes.
On Dec. 20, Vietnamobile presented gifts and cash of VND100 million to the SOS Village Ho Chi Minh City to help disadvantaged children their during the Christmas and New Year time.