The Ho Chi Minh City's Youth Volunteer Force and the Can Gio District's People Committee on Sunday started work on the finish of the road through Sac Sorest in the district.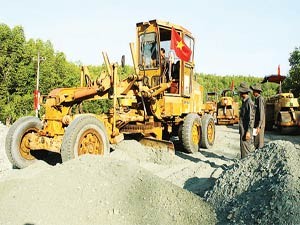 A machine works for the road's finish on Aug. 31
This is the second phase of the project for building a road running from the center of Binh Khanh commune to the April 30 crossroad in the district.
The six-lane road is about 37 km long and 30 - 40 meter wide, including 7 bridges. Total investment for this phase is  VND749.5 billion (about US$45.5 million), which is paid by the city's budget.

The contractor will complete the first three lanes in December 2009 and accomplish the remaining ones by the end of 2010, said Mr. Duong Thanh Hung, the director of the Project Management Unit for the Can Gio area.

At a recent meeting with Can Gio authorities, city chairman Le Hoang Quan required the unit and the contractor to carry out this phase as schedule.