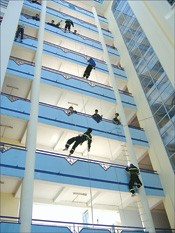 Firemen of Ho Chi Minh City's fire brigade are drilling at a building.
Ho Chi Minh City's fire brigade has been made into a separate department, though still controlled by the Ministry of Public Security.
Established yesterday, the Department of Fire Prevention and Fighting Police is run by Colonel Tran Trieu Duong, also deputy director of the Ho Chi Minh City Police Department.
Besides fire fighting and prevention, its duties include rescue and other emergency work. The Ministry of Public Security is responsible for the new department's personnel and operations.