A large fire destroyed an incense shop, killed three people and injured two others in the early morning hours Tuesday in district 11 of Ho Chi Minh City.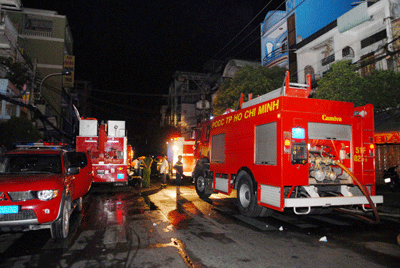 The file photo showd fire-fighters extinguishing the fire in early Tuesday morning
According to initial information, the house suddenly caught fire in the ground floor, where there were a lot of incenses and votive papers for worship. The fire began in front door so it locked people inside the house.
Some people ran up the top floor and screamed for help. Residents around the house called to fire-fighters after the fire got worse.
Dozens of fire trucks and nearly 100 fire-fighters together with health emergency doctors arrived at the scene of fire. Because the house contained many combustible materials, rescue work seemed difficult. Rescuers brought out three people, two of them were hospitalized.
 
However, three people were still trapped in the house and fire-fighters could not get inside the house.
After 5 hours, the fire was extinguished. Rescuers found three bodies, including two men and a woman on the mezzanine floor of the house. The dead have not been identified yet.
The cause of the fire is still unknown.