More than 70 pigs were burnt alive after a big fire swept across a   farm shed in Hoc Mon District on the outskirts of Ho Chi Minh City on October 18.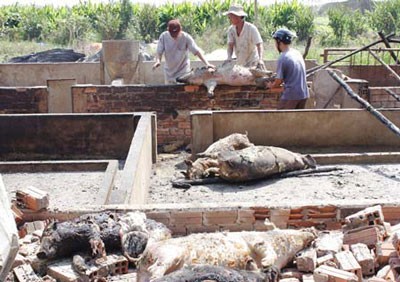 The farm become ash after the fire and pigs are burnt to death
Le Thi Ly, the farm owner, said an employee saw the fire break out in the farm shed and informed her at about 6am.
Neighbors rushed to stamp out the fire by pumping canal water but failed as the shed was full of inflammable items. The structure soon engulfed in flames and dark smoke rose upto 30 meters.
Seeing the fire go out of control, the farm employees quickly broke open the enclosures to allow the pigs to escape.
However, the fire was too big and more than 70 pigs perished in it   while several others suffered severe burns. Ly's house near the pig shed was also burnt to the ground.
After one hour, two firefighting vehicles and dozens of firefighters arrived at the scene to prevent the fire from spreading to the neighboring house.
The total damage caused by the fire has been estimated at hundreds of millions of Vietnamese dong.