Deputy chairman of the Ho Chi Minh City People's Committee Tran Vinh Tuyen on August 11 listened to Vinasing Trade and Communication Company's report of a proposal to  build 1,000 public toilets with the total funds of VND110 billion (US$4.93 million) citywide.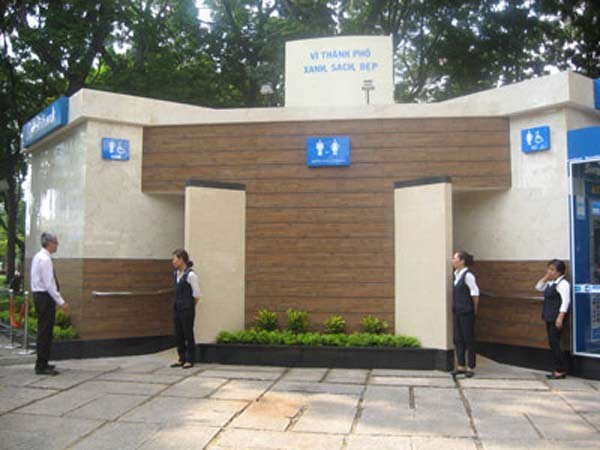 A high grade public toilet at September 23 (Photo: SGGP)
According to the proposal, the 1,000 works will be built with light materials, detached, joined and removed easily. They will locate near schools, parks, zoos, parking lots and metro stations.
Besides, the company wants to finance ten specialized vehicles to transport water and waste and 500 public trashcans.
In return, it seeks the city's permission to exploit areas for advertisement boards at 40 flyovers and pedestrian bridges in the city within 15 years.
Deputy Chairman Tran Vinh Tuyen asked the company to pilot two public toilets at parks for the city to consider wide investment. It can reclaim capital with advertisement boards but this must comply with the law.
The company said that the two restrooms will come into operation before September 2.
On the same day, Swiss Company Mister Loo met with the city leaders proposing to build public restrooms under Swiss standards.
Each toilet will be built at a total cost of US$40,000 over 25-50 square meters and equipped with air conditioners, soap and towels. 
The company suggested collecting a fee of VND5,000-10,000 a person to reclaim funds.