The first concrete girder of metro route Ben Thanh-Suoi Tien that is one of the parts of the first city's metro rail system was successfully installed yesterday.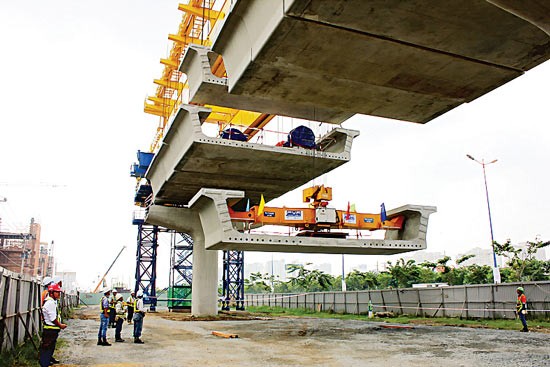 The first girder of Ben Thanh-Suoi Tien metro route was installed in HCMC on June 4 (Photo: SGGP)
The Ben Thanh-Suoi Tien metro route stretches 19.7 kilometers including a 2.6 underground section. Twelve kilometers of the rest 14.5 viaduct will be built with prefabricated girders, being put together through a mobile scaffold system.
A total of 4,563 U-shaped girders, equivalent to 372 bridge spans, were made of concrete at a yard in District 9 before being transported to the construction site for installation. A girder is about 11m wide and 2m high, weighing 500 tons.
The girders were designed by the French contractor Systra and prefabricated by FVR joint venture.
The girder prefabrication and installation bid is expected to complete in two years ending in 2018.
Speaking at the girder installation ceremony City Chairman Le Hoang Quan said that Ben Thanh-Suoi Tien was an important project with complicated construction techniques and a large investment capital of US$2.2 billion.
He asked the project's investor, contractors, supervisory and consultant units to ensure the project's quality and labor safety.