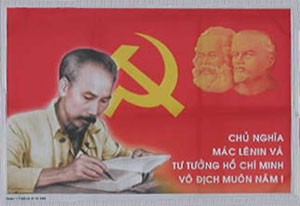 The poster shows Uncle Ho's working under the light of Marxism-Leninism.
The first Marxism - Leninism, Ho Chi Minh Ideology Contest 2006 with the name "Modern Light" opened in Ho Chi Minh City today.
Twenty six teams, including 156 youths and members of the local communist youth unions, entered for the contest.
They were streamed into 2 groups: group A for teams who were from administrative bodies, and group B for teams from schools and enterprises.
Candidates have to answer 50 multiple choice questions and 5 extra questions about lives and work of great thinkers typical of the Marxism - Leninism, of President Ho Chi Minh, of well-known men, as well as about Viet Nam's economy, foreign affairs, history, culture and the Vietnamese Communist Party's history.
Ultimately, the 12 best scored teams, of which two are from the Sai Gon Giai Phong Newspaper, of the two groups were selected for the semi-final.
The contest was held by the Communist Youth Union's branches of the Party's bodies and organizations in Ho Chi Minh City.