The Ho Chi Minh City Urban Railway Management Board on Tuesday affirmed that Ben Thanh-Suoi Tien metro route will be put into operation by 2020.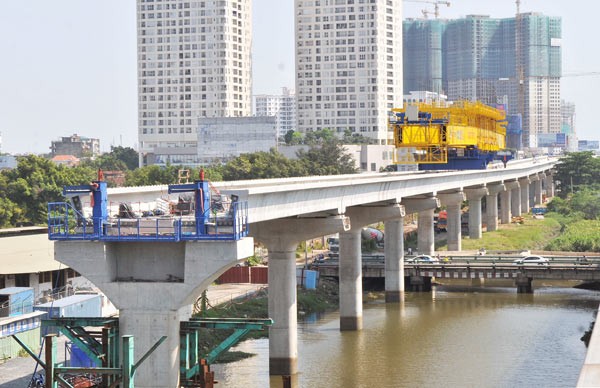 The above ground stretch of Ben Thanh-Suoi Tien metro route is under construction in HCMC  (Photo: SGGP)
The bid package of 515 meter underground stretch from Ben Thanh station to Saigon Opera House station will start construction by the end of this year and complete within 48 months, the board reported.
 
So far, 11 percent of work volume has been done on the construction site of the 1,315 meter underground stretch from the Opera House station to Ba Son Shipyard station.
 
50 percent of the second bid package to build above ground sections and depots has been done.
 
The third package on purchasing locomotive and carriages, rail tracks, electromechanical devices and maintenance equipment is under technical design phase.
 
The fourth package to equip the route's operation and maintenance company with an IT system will be put out to tenders by 2017.
 
Ben Thanh-Suoi Tien metro project has a total capital of VND8.4 trillion (US$374.41 million) including VND5 trillion from the city's budget. The remaining funds come from investors under Public Private Partnership and Foreign Direct Investment forms.
 
HCMC has approved the policy of building metro line No.2 Ben Thanh-Tham Luong which will affect 679 households.
 
The Urban Railway Management Board and districts where the households reside have made land measurements to set up compensation measures.
 
Metro route No.5 from Bay Hien Crossroads to Saigon Bridge is estimated to have a total capital of EUR1,563 million (US$1.73 billion), of which Vietnam will spend EUR463 million on site clearance.
 
The board has already carried out a pre-feasibility study for the stretch from Can Giuoc Bus Station to Saigon Bridge.
 
The South Korean Government has assisted US$5 million to conduct pre-feasibility and feasibility studies for the second phase from Bay Hien Crossroads to Can Giuoc Station.