The construction firm Tradincorp has made debut of a pilot project on underground electricity cables on Tran Hung Dao Street in Ho Chi Minh City.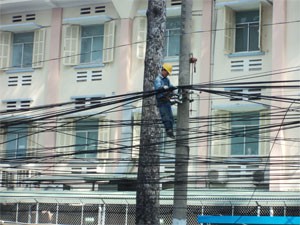 An electrician works on tangled power cables on Nguyen Thi Minh Khai Street in HCMC. Underground electricity cable system is expected to improve sightseeing and prevent electrical accidents (Photo:Minh Tri)
The success of the project will pave a way for putting the city's electricity and telecommunication cable systems under the ground, helping improve the sightseeing and preventing people from electrical accidents.
Two trenches were digging alongside the street, with seven piles about 100-150 millimeters in diameter for power cables and 12 piles around 42-100 millimeters in diameter for telephone cables running inside each.
The first-ever project with the total investment of VND58 billion (US$2.9 million) was carried on a 2.4-kilometers section, which is located in between Nguyen Van Cu Street and Nguyen Cu Trinh Street in District 1.
Tradincorp general director Mai Hieu Thao said his firm coped with many "unexpected technical problem and even criticism from the city's residents" at the outset.
"Although we were granted permission for the installation of low-voltage underground boxes by the city's authorities, some people still protested the work on the installation. And that slowed down the progress a little bit as we had to halt the work to negotiate and persuade them," Thao told Dau Tu Tai Chinh Newspaper.
However, vice chairman Nguyen Trung Tin of the HCMC People's Committee noticed that the project remained on time and was content with the project's techniques, as well as the sightseeing improvement, Thao said.
It also took a lot of time for engineers of the project to navigate the existing underground construction works as there was no detailed map of them in HCMC, he added.
"There are lots of cables of internet and cable television service providers and telecommunication firms on power poles. The city's authorities instructed relevant units to remove unused cables, but that task is pretty tough," he said.
The city's authorities also carried out similar projects on other streets, including Luy Ban Bich and Tay Thanh in Tan Phu District.
Up to 26 construction works on underground cables with the total investment of VND400 billion ($20 million) are expected to kick off in the city this year.
Vice chairman Tin of the HCMC People's Committee said the telecommunication and power cable systems in downtown will have to be put under the ground to improve the sightseeing.
Tradicorp's Thao recommended that to encourage builders, the city's authority should set up rental frame of underground constructions and ask banks to provide loans with preferential interest rates for underground cable projects.
Pham Quoc Bao, deputy general director of the HCMC Power Corporation proposed to design technical requirements of the trench for underground cables, as well as legal regulation on management of the underground cable systems.