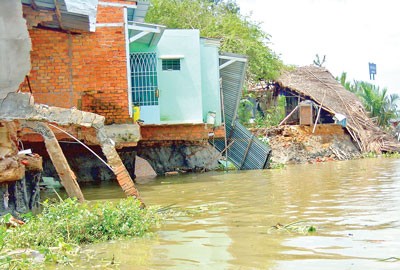 Houses destroyed in the landslip (photo; SGGP)
A landslip has caused damage to five houses, with one collapsing into the River Rach Doi, Nha Be District, on May 25. 

A fifty meter stretch of riverbank suddenly slipped into the river on May 25 night but no deaths were reported.
Local authorities, police, guards and volunteers fortified banks, built temporary barriers, salvaged property and looked for temporary accommodation for the 22 people affected by the landslip.
Residents nearby also gave food and clothes to those affected.