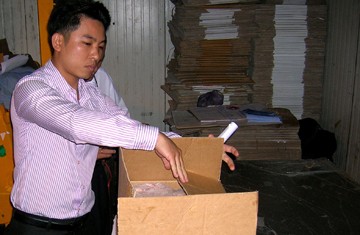 An inspector checks containers of chicken wings (Photo : Phap luat)
Some eight tons of contaminated frozen chicken wings were discovered by inspectors from the Ho Chi Minh City Animal Health Department on July 3.
Following a tipoff that poultry wings had failed to meet food hygiene standards but were still being sold by Truc Den Ltd, District 5, inspectors in coordination with officials from District 8 carried out checks at the company's frozen warehouses.
Inspectors found and sealed more than eight tons of contaminated chicken wings at the ware house.
Company representative confessed to selling over five tons of such food, and could not present certificates of food safety and import licenses.