Flood tides December 5 submerged many areas in Ho Chi Minh City including Thu Duc, Binh Thanh and District 2.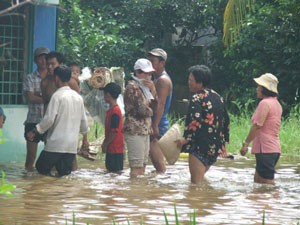 Many areas in Ho Chi Minh City are submerged on December 5.
The water inundated Hiep Binh Chanh Ward's Health Center as well as the police department in Linh Dong Ward, Thu Duc District. Employees had to wade through muddy water to get to work. 
Some houses in districts 2, 3, 5, and Binh Thanh were flooded early Saturday forcing residents to bail water out of their homes.
In addition, several roadways were flooded including Kha Van Can, road No.25 in Thu Duc District; 13 Highway street near the East Region Bus Station, and Ung Van Khiem Street in Binh Thanh District, causing major traffic jams.
Many transport vehicles also broke down, affecting local travel.