Two hours of intense heavy rainfall in Ho Chi Minh City yesterday afternoon resulted in submerged streets, traffic gridlock and stranded motorcyclists.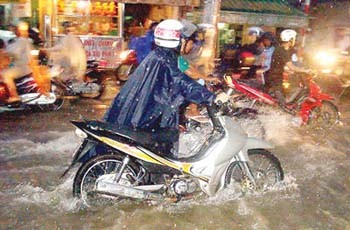 Many streets dipped under floodwaters after a drenching rain in HCMC on August 23 (Photo: SGGP)
Cars and motorcycles broke down along many streets causing further traffic chaos. Streets like Dinh Bo Linh, Bui Huu Nghia and Xo Viet Nghe Tinh were submerged under 0.5 meters of water in Binh Thanh District.
Tran Hung Dao, Chau Van Liem and Hong Bang Streets in District 5, Thanh Thai, 3 Thang 2 and Le Hong Phong in District 10 and Tan Hoa Dong, Ba Hom and An Duong Vuong in District 6 were all under water, with many sections of the streets facing higher levels of flooding, where waters submerged even the pavements and flowed into peoples' homes.
Dozens of motorcycles broke down along Kha Van Can Street in Thu Duc District and Le Van Viet Street in District 9 which were under 0.5 metres of water. Many drivers pushed their bikes to higher ground and awaited the waters to recede.
Local people have reconciled this as a regular feature after a bout of heavy rain. All throughout the rainy season, they struggle to prevent floodwaters from flowing into their homes.
The sluice system proved ineffective in draining floodwaters into the Tan Hoa-Lo Gom Canal in districts 6, 11 and Tan Phu as seen in yesterday's rainfall. While city streets were lying submerged under floodwaters, the canal saw little water flowing into it!