Local residents in flood-prone areas in Ho Chi Minh City are facing multiple difficulties in everyday lives as flooding triggered by 5-decade high tides is forecast to last longer.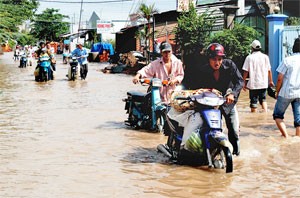 Flooding in the streets of Ho Chi MInh City
In outlying districts, high tides have breached a series of river embankments and submerged around 100 houses.
The rising waters also took a great toll on local businesses and properties, stopped children from going to schools, created traffic jams in many areas besides exposing locals to infectious diseases.

Nguyen Quy Nhi in Hiep Binh Phuoc ward, Thu Duc district showed reporters his toes oozing with blood: "My toes began to develop ulcers because of dirty water", he said. Other said they have to live with flooding caused by high tides like this twice a month.

In downtown city, the tide, considered the highest during the past 48 years, has likewise brought traffic to a standstill, especially in Districts 6, 8, and Binh Thanh.
The HCMC Department of Traffic and Public Works on Sunday dispatched officers to study first hand the flooded streets while the HCMC Committee for Flood Prevention and Control has asked for more coordination among competent authorities in fortifying major dikes in districts Thu Duc, 12, Hoc Mon, Cu Chi and Binh Thanh.

A senior official from Thu Duc district's flood control committee said the district is planning to build a 700-meter-long wall along the Vam Lo canal; however, the project has yet to be ratified.

Another VND50 billion dyke project in the Sai Gon River, conceived as far back as 1997, is still awaiting government approval.

It is widely known that the city's budget for annual flood prevention and control has eaten up dozens of billions of dong but many river embankments still burst every year.