Sixteen years ago, Ho Chi Minh City spent nearly VND1 trillion (US$44.64 million) on filling up a 600 meter stretch of Hang Bang Canal in District 6 and installing box sewers to deal with pollution. Now, the city has to pay triple to dig the stretch to ease flooding due to high tides and heavy rains.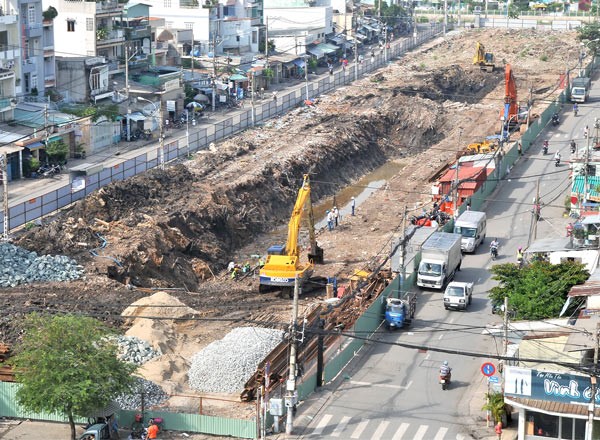 On the construction site of Hang Bang Canal digging project. The canal was filled up to reduce pollution in 1999-2000 (Photo: SGGP)
Both ends of the buried stretch have been narrowed to only 2-3 meters where receive wastewater from nearby residential areas.
According to the HCMC Urban Traffic Works Investment Management Board, the drainage improvement project in the lower reaches of Hang Bang Canal, part of the second phase of the water environment clean up project, is to build parks along both sides of the canal.
The project aims to improve drainage and water containing ability for the entire 1,400 meters canal from Lo Gom Canal in District 6 to Van Tuong Canal in District 5.
Hang Bang Canal comprises fourth sections with the first 220 meter stretching from from Lo Gom Canal to Binh Tien Street, the second 675 meters from Binh Tien Street to Mai Xuan Thuong Street, the third 765 meters from Mai Xuan Thuong to Van Tuong Canal and the fourth 155 meter section from Pham Van Khoe Street to Vo Van Kiet Boulevard.
The first out of three phases of the project has started in the first and fourth sections and is expected to complete by October next year.
The second and third phases will continue dredging other sections and building embankments starting 2017 to 2020.
Site clearance and compensation is estimated to cost VND2.5 trillion (US$111.6 million) excluding construction expenses.
Mr. Pham Sanh, lecturer from the HCMC Transport University, said that formerly authorized agencies simply thought that filling up the canal and installing box sewers would help reduce pollution. Moreover, that way would take less time and money on site clearance.
At that time, they did not think about of current flooding. At present, a slew of new culvert routes have been built and most run into Hang Bang Canal but it can not drain water out.

Therefore, digging the 600 meter stretch is compulsory to improve drainage, environment and urban landscape along the canal, he added.
Professor Le Huy Ba, former head of the Institute for Science, Technology and Environment Management under the HCMC University of Industry, said that after Hang Bang, local authorities should clear and dig others canals that have been buried or encroached. They must prevent other canals from being filled up.
HCMC has 3,020 canals along 5,000 kilometers. Hundreds of them have been filled up or installed with box sewers to reduce pollution and make room for housing projects in Districts 2, 7, 8, 9, Binh Thanh, Binh Tan, Thu Duc, Hoc Mon and Binh Chanh.