Flooding on the main streets of Ho Chi Minh City after a heavy rainfall or a high tide is far less now than it was some years ago, but it seems to have worsened in alleys and side lanes.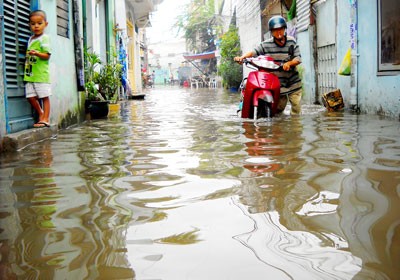 A flooded alley on Nguyen Van Luong Street on October 3 (Photo: SGGP)
On October 3, heavy rain combined with high tide caused flooding on several streets in Ho Chi Minh City. Among the worst affected were side lanes and alleys linking to the main streets like D1, D2 and Phu My in Binh Thanh District and Nguyen Van Luong in District 6.
Some alleys near Nguyen Van Luong Street were still submerged several hours after the rain had stopped. Several motorbikes broke down while floodwaters flowed into houses and shops, damaging residents' furniture and belongings.
Local people often use machines to pump out the floodwater from their houses and some build barricades in front of their doors to hold back the water from flowing into their homes.
Flooding is worse when the rain and high tide occur simultaneously.
Dr. Le Huy Ba from the University of Industry in HCMC said that the City has only focused on upgrading larger and main roads but have neglecting alleys and side lanes. When main road levels were raised alleys and lanes remained at lower levels, and hence the water floods houses and side lanes as it recedes from the main streets.
HCMC should better plan drainage in these lanes to resolve the issue, he added.