High tides breached dykes in suburban areas and have caused extensive damage Sunday. The Southern Hydrometeorology Forecast Center warns high tides will continue until tomorrow.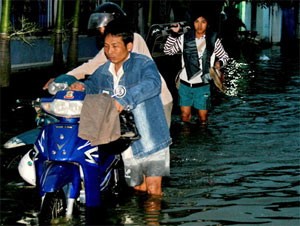 Residents try to save property in quarter no.5 of Tan Hiep Phuoc Ward, Thu Duc District (Photo: Tuoi Tre Newspaper)
The tides are predicted to reach their peak between 3am to 7am and from 4pm to 8pm. The highest tide on the Sai Gon River can reach 1.4 to 1.45 meters in height. 
At around 2.40am Sunday, the high tides broke through part of dyke quarter no.5, Hiep Binh Phuoc ward of Thu Duc district and flooded tens of houses there. A resident said that he suddenly woke up early in the morning to find his house flooded by half a meter of water. 
Streets no.9 and no.7 and various alleys nearby were almost one meter under water, with the water flowing onto Highway 13.  
After the incident, the People's Committee of Hiep Binh Phuoc ward called out 50 night-watchmen and residents to mend the dyke. Floods caused 250 houses and 50 hectares of agricultural land to be seriously flooded.  
Some streets of districts 5, 6, 8,12 and Binh Thanh were also affected. Some streets were under 30 centimeters of water causing traffic jams.  
Nguyen Van Luong Street was flooded for four hours. Part of Pham The Hien Street, from Ba Tang Bridge to Binh An Market, was under half a meter of water.  
Due to a blockage in silage pits many places along Ong Cu Canal in district 12 and Thu Duc district were badly affected by floods as well.