The Nguyen Hue avenue of Ho Chi Minh City is undergoing a major transformation to become a floral street to welcome the nation's biggest festival – Tet (Lunar New Year), which will fall in late January this year.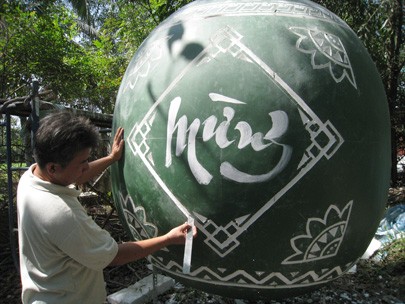 One of five huge counterfeit watermelon fruit for the festival (Photo: TTO)
This year's floral festival, lasting from 19h, Jan. 23 (the 28th day of the last month of the Rat Year) to 22h Jan. 28 (the third day of the new year), is the sixth ever so far hosted by the HCM City People's Committee and financed by the city's businesses. It has become the city's most awaited festival every spring.
About 100,000 pots of flowers and bonsai will be brought in from different regions nationwide, not including fresh flowers supplied by flower growing centres in Da Lat central highlands city and the southwestern region, to decorate the 800m long road.
The one-way floral road will begin with a garden of 100 ancient trees of mai - apricot trees with yellow flowers, the traditional Tet flower in the southern region.
The road then will be divided into seven sections with different themes depicting Vietnam 's countryside with stacks of yellow straw, green bamboo trees, rice fields, make-shift bridges crossing small canals.
The road will ends at the Bach Dang port with a field of green watermelon plants and a 5-m high artificial watermelon fruit.
In addition to various arts and music performances along the floral road, the festival also includes a 15-minute firework in the New Year's eve.