Hua Ngoc Thuan, deputy chairman of the Ho Chi Minh City People's Committee on January 20 officially opened Nguyen Hue Flower Street to the public, which opens this year with the theme 'Vietnam-My country'.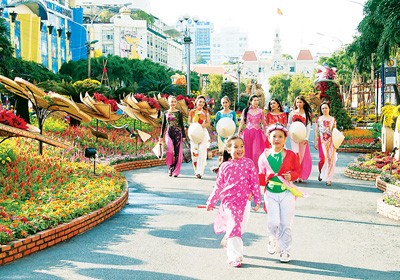 Young women dressed in traditional outfits walk through Nguyen Hue Flower Street (Photo:SGGP)
This year the flower street will be presented in four sections. Uncle Ho's yellow apricot garden; Dragon statues; Flowers and Vietnamese traditional cakes 'Banh Tet' (cylindrical glutinous rice cake) and 'Banh Chung' (square glutinous rice cake); and a couple of giant dragons made of bamboo and knitted and braided dried water hyacinths.
Each dragon will be 26 metres long and 5 metres high. Colourful flowers and gold coins will shower from their mouths, welcoming a beautiful and prosperous Tet Lunar New Year.
Various entertainment activities such as musical performances and puppetry will take place around the Flower Street.
On the same day, on Mac Thi Buoi Street, books about Vietnamese history, traditional cultural values, and HCMC in the past were put on display under the theme "Con Duong Truyen Thong" (Traditional Street).
The highlight of the display will be books featuring Vietnam's historical sea & island sovereignty over Paracel and Spratly islands.
Since early yesterday, hundreds have flocked to the flower and book streets on Mac Thi Buoi, Nguyen Hue and Ngo Duc Ke Streets to take in the festive and colourful sights.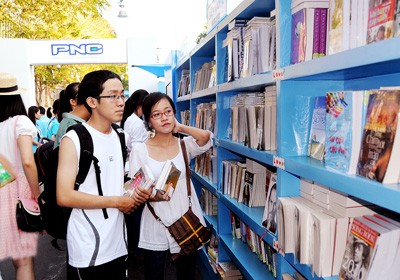 HCMC youth buying books at the street book fair (Photo:SGGP)
Ngo Duc Ke Street, named "Con Duong Tuong Lai" (Street of the Future), will sell books and documents on the city's projects for the next few years. The street will also sell children's and braille books, and will also have a playing area for children and some book cafes.
Nguyen Hue Flower Street will end its display on January 26.
Meanwhile, the 2012 Spring Flower Festival opened at Tao Dan Park in Ho Chi Minh City yesterday.
More than 8,000 items including various kinds of flowers, ornamental fish, dried trees, grafted stones, rock-gardens, and bonsai plants are on display at the festival.

The festival, which will last until January 28, will also feature the country's biggest pair of dragons made from flowerpots, models of famous landscapes across the country and rare, valuable flowers and plants.

A variety of cultural performances, exhibitions, calligraphy displays, and other activities will also take place during the festival.

In addition, the city has organized numerous Tet flower markets in many of its districts for people to visit during the festive season.