Nguyen Hue Flower Street in Ho Chi Minh City welcomed more than 3.5 million visitors during Tet Lunar New Year this year, an increase of three times compared to last year.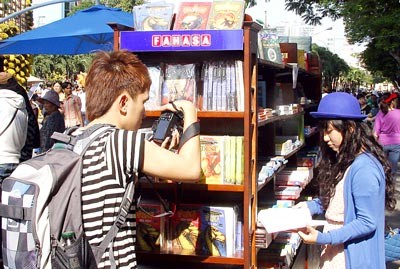 Visitors browsing through books on Book Street (Photo: SGGP)
The Flower Street was open to public 14 hours a day, with more than 500,000 visitors streaming in each day to enjoy the spectacular display of flowers.
The street shut down at 10 pm on January 26. After sanitary workers completed the cleanup of the area, the street re-opened for normal traffic at 6 am on January 27.
According to the Ho Chi Minh City Department of Information and Communications, on an average, the book streets located in three downtown locations, namely Nguyen Hue, Mac Thi Buoi and Ngo Duc Ke streets welcomed 400,000 visitors per day.
Book sale turnover of the HCMC Book Distribution Company (Fahasa) was estimated at more than VND750 million. Total book turnover on the book streets reached more than VND1.6 billion on a sale of 23,000 books.