A massive convergence of varieties of flower, ornamental plants and fruits congregate into Ho Chi Minh Ctiy's streets such as Thanh Thai, Ba Thang Hai in District 10 , the national highway No.13 in District Thu Duc to meet growing demand in the days near Tet (the Lunar New Year).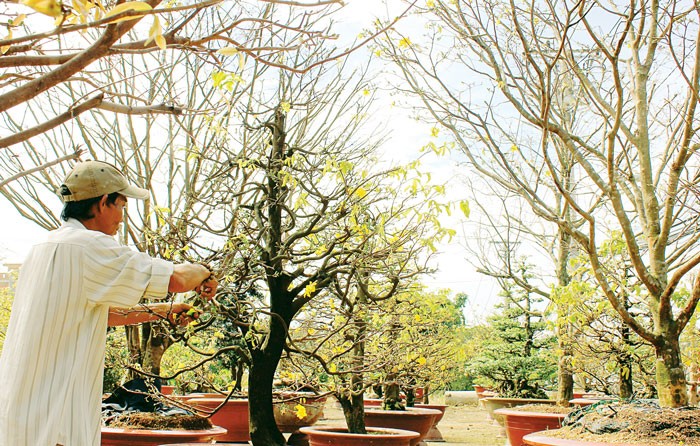 Apricot flower in gardens in Thu Duc District (Photo: SGGP)

Streets which displayed Tet flowers were yesterday bustling with strong sales. Small trucks continuously parked in the streets and people unloaded various kinds of flowers, ornamental plants. The number of people dropped by the streets to buy flowers and do price surveys has been increasing.

Ms. Lan from the Mekong delta province of Ben Tre's Lach Market said that she has just hired a shop in Thanh Thai Street to sell flowers and plants. A small pot of apricot-symbolizes the Tet atmosphere in the South- fluctuated from VND80,000 to VND100,000 while big pots are priced from VND500,000 to VND1 million, said Lan.

This year, gardeners make some new flowers with different shapes such as boat-shaped apricot or rockery-shaped bonsai to catch customers' eyes. Yet these days, most customers just come over to the shops or take a look. Hundreds of Tet flower shops which have showcased various types of colorful orchid and ornamental plants along Thanh Thai Street also welcome a mass of customers.

Customer Mai Cong Huan in Hai Ba Trung Street in District 1 is looking for orchid for Tet gift saying that Tet flower market this year sees a wide variety of flowers from single corner of the country into the city including imported flowers from Taiwan ( China).

In addition, special local fruits such as Dien pomelo grown in the central province of Nghe An or papayal are displayed along streets Le Hong Phong or Ba Thang Hai in District 10 with price of hundreds to millions of Vietnamese dong to serve different demands. Big supermarkets like Co.opmart, BigC also sell ornamental fruits with strange shape at proper prices.

In gardens along the national highway No.13 in Hiep Binh Phuoc ward of Thu Duc District, gardeners have pinched off apricot's leaves waiting for good weather to help the flower blossom in the Tet holiday. Farmer Tran Van Ngan said that unpredicted weather makes apricot farmers on tenterhook.

Due to unseasonable rains, a few days ago the productivity of Tet flowers reduced by 35-40 percent, ornamental chrysanthemum sellers in Le Thi Rieng Street in District 12 lost much. The price of ornamental plants and flowers increased by 10 -15 percent compared to last year because of low productivity leading to unbalanced between supply and demand.

Only orchid farmers have gained profit. A representative from Ornamental Plants and Animal in Cu Chi Districts said farmers in the district have designed the garden with roofs so unseasonal rain did not badly affect the flower.
All dendrobium orchid in the district are sold out while mokara orchid will be provided in the market in Tet holiday with the price from VND120,000 – 140,000. This year, there is plenty of local orchids and consumption of local orchids is forecast to be far exceeded imported ones.