With its specific geography position, Can Gio District of Ho Chi Minh City should pay attention to sea economy to escape poverty, said at a meeting held by the district eleventh Party Session on July 23.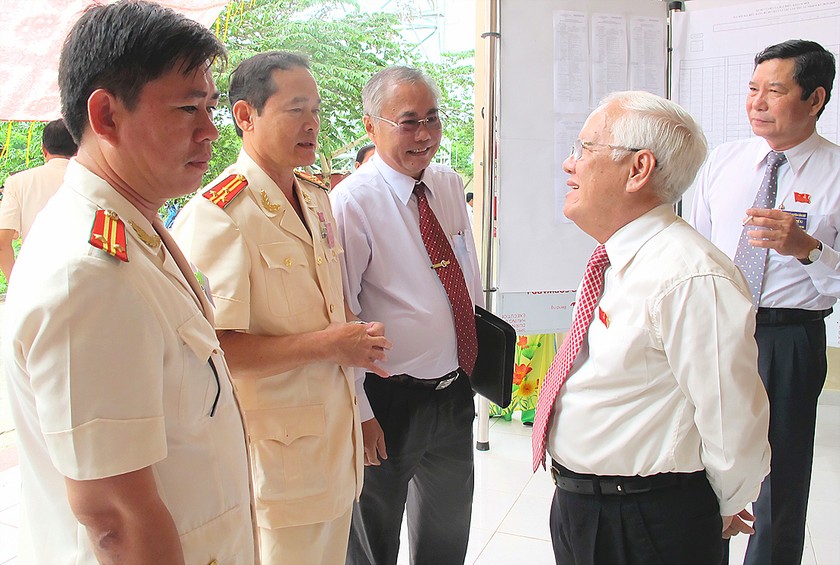 Mr. Quan (2nd, R) and representatives at the meeting (Photo: SGGP)
Ho Chi Minh City People's Committee Chairman Le Hoang Quan and 230 representatives attended the meeting.
At the meeting delegates reported that for 5 past years, Can Gio District's economy has fast growth rate with 10 percent a year. As a result, the district has changed with improved infrastructure. Residents in Can Gio District now can access to fresh water and use electricity.

Especially, all communes have achieved standard set by the Government's New Rural Development Plan which aims at upgrading agricultural techniques, improving farmers' lives and developing rural infrastructure though they at first just met 3-5 standards.

Local authoritties have built and upgraded 5,000 houses for the poor and repaired houses for families in serving the cause of the nation's revolution, contributing to changing the district.

Chairman Le Hoang Quan praised the district's achievement noticing that till now, Can Gio District is still the most difficult district of HCMC. He said with its specific geography position, the local government should pay more attention to developing sea economy and encouraging all sectors to participate in growing economy.
In addition, the district should focus on traditional products to serve tourism. For the period 2015-2020, Mr. Quan asked the district to coordinate with other agencies to carry out the project of Ben Luc – Can Gio- Long Thanh highway as per the government's guideline.