Many people have recently had to visit hospitals after eating food from HCM City street vendors. This is an urgent matter of food hygiene that must be looked into.
Street business
Schoolchildren buy food from a street vendor. Poor hygiene has resulted in a spate of food poisoning cases among children.
Many citizens are too busy with their work, they do not have time to cook so they buy food sold on the street.
Nguyen Thanh Mai, from Tan Phu District, said she has to work all day so buys soup on the street near her house.
Last month, her daughter was taken to hospital with stomach pains and diarrhea after eating street food.
A doctor said the meat and eggs she ate were to blame and were of poor quality.
Many people have been taken to hospital thanks to gone-off meat.
Street vendors gather most in front of school gates, markets and hospitals.
At break time, children run from class to the school-yard to play invariably dirtying their hands. When they leave school, they munch on street food with grubby mitts, with no thought of food hygiene and safety.
Most street food vendors have nothing with which to protect their food from dust and flies. They use unprotected hands to pick up food, clean up dirt and handle money.
Lai Thi Vy, who sells fruit near a school in Truong Trinh street, Tan Binh District, said she did not fear police because whenever she sees them, she immediately cycles into lanes and alleys.
"If I stop selling fruit, how I will make a living? I have no money to buy a seat in the market," said Vy.
The number of food hygiene investigators is low
According to Ho Chi Minh City Preventive Medical Department, there are 317 people responsible for managing food hygiene and safety in wards, but have many other responsibilities, so they cannot concentrate on checking food quality.
There are 50 full-time and 36 part-time officials responsible for checking food at district level.
The number of staff for managing food hygiene and safety is too low. There are 35,000 food processing businesses and shops in Ho Chi Minh City. The city manages to check just 1,500 companies and shops.
The current situation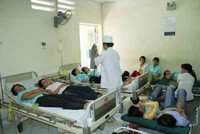 The number of cases of serious food poisoning reported from the first quarter of 2009
According to statistics from the Food Safety and Hygiene Department, in the first quarter of this year, there were 11 cases of food poisoning affecting a total of 229 people, with two dying.
Food poisoning is caused by many reasons, from processing to cooking.
Unsafe food is also still being imported across the borders. Poor quality and out-of-date food is still being sold and food safety violations regulations continue, especially among small-scale processing units and street vendors.

Other concerns center on the excessive use of plant-protection sprays, heavy metals, biotic and micro-organisms in products.

Solutions for food hygiene and safety
According to a manager of the center, issues related to food safety combine all sectors. Any mistake at any point in the chain can cause problems.
He has sought to enhance supervision systems to evaluate and check food origin.
"We have also pushed up the need for education on food safety and related legal documents to food processors and sellers, as well as boosting education on safe eating habits," he said.
The deputy Director of Viet Nam Food Administration, Nguyen Thanh Phong, said the Health Ministry should investigate food safety and hygiene of street vendors near schools, but also co-coordinate with the Ministry of Education to issue circulars guiding schools to open catering services for students.
The schools would meet the Ministry's requirements on food safety and hygiene.
Mr Phong said schools would have to co-ordinate with local authorities to clamp down on street vendors near them.
"Local health centers, authorities and schools will have to take responsibility for this problem," he added.
The State needs to punish companies that violate food hygiene and safety.
Consumers need to buy food that has a clear origin and food supply is audited.
In related news, 90 products and brands will be granted 'food hygiene and safety product' at a ceremony to be broadcast live on VTV1 from HCM City's Opera House on April 18.