Can Gio District is to continue to be developed into an urban area. However, the forested areas are considered important in the protection of Ho Chi Minh City's environment so that the development has to preserve these areas, chairman of the HCMC People's Committee Le Hoang Quan told the district's authorities Tuesday.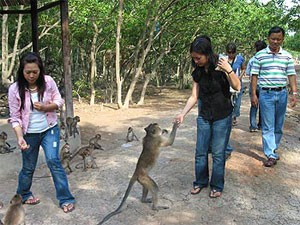 Can Gio is developed into an area for ecological tourism 
Chairman Quan said the city will consider the district's plans for 400 hectares of land to move some universities into Can Gio, and will carefully review the construction of industrial parks.
 
The city chairman ordered relevant agencies and local authorities to speed up the construction of the Rung Sac road, which is aimed at facilitating Can Gio's growth, to be finished by mid 2009.
 
He has requested the Saigon Water Corporation to design and build a water pipe line from the inner city to Can Gio with the line being in operation in 2009.
 
Mr. Quan said like roads, without fresh water we cannot develop Can Gio District and especially develop its tourism.
 
At a previous meeting, Nguyen Huu Hiep, chairman of the People's Committee of Can Gio District, petitioned the city's authorities for building the Binh Khanh Bridge over the Sai Gon River to link Can Gio District with the Dong Nai Province which lies east of HCMC.
 
Mr. Hiep also asked the city's permission to upgrade Can Thanh-Vung Tau ferry route and the Binh Khanh, Tam Thon Hiep, Can Thanh and Ly Nhon wharfs. He also proposed the development of the Can Thanh and Long Hoa communes into areas for ecological tourism.
The city has given priority to business, health and education projects to improve the living standards of the Can Gio District and its economy until 2020 following the coastal suburban district's merger with HCMC 30 years ago.