To celebrate the 62nd anniversary of the day Uncle Ho established the Vietnam Youth Volunteer Force, 300 former female war volunteers, who had worked during the wars against the French and American forces, met at the Saigon Opera House in Ho Chi Minh City on Tuesday.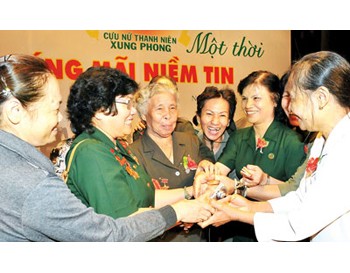 Former female war volunteers in a happy reunion (Photo: SGGP)
Truong Thi My Lien, living in District 3 in HCMC, said that she could not sleep the night before as she was so eager to meet her old comrades.
Lien was from Ca Mau Province and volunteered to carry wounded soldiers and transport ammo for Division 9 when she was only 17-years-old.
Nguyen Thi Ngoc Loan, living in Hoc Mon District, said that her parents passed away when she was only nine or ten-years-old in the Mekong Delta province of Tien Giang. She falsely stated her age to be 16, to volunteer for the war.
"As I was the youngest, I was coddled by elder sisters. Some wounded soldiers refused to let me carry them and insisted on walking. I had to work hard to convince them," Loan told.
She recalled a combat in Tay Ninh Province when the enemy fired fiercely; forcing the female volunteers to give up carrying wounded soldiers out. After Liberation Day, Loan and her comrades went back to the battlefield and found more than 100 remains of soldiers.
Nguyen Thi Dep, from Cu Chi District, also volunteered for the war when she was 16. She used to be a company commander that was in charge of 100 female volunteers.
She said that most of the female volunteers aged 17-20 usually carried wounded soldiers and transported ammunition. When they were waylaid, they willingly took to guns and protected the wounded soldiers.
At the age of 16, Dao Thi Hong Dao together with 120 female volunteers walked 79 days and nights to arrive at the Tan Bien battlefield in Tay Ninh Province. Despite violent battle, she refused to retire to the rear as instructed by her superiors.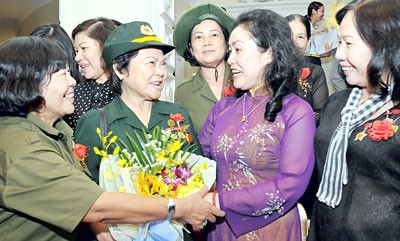 Dinh Thi Bach Mai (in violet ao dai), chairwoman of the HCMC Women's Union, at the meeting (Photo: SGGP)
"At that time, our enthusiasm was very high, we did everything with only one goal—to fight the invaders," she said. "My first love lasted for 4-5 years before he passed away. I was too heart broken, but still strived to continue my duty," she recalled.
Several generations of young women had volunteered for the fight against the US and France and then continued to tackle the war in the southwest border.
 
"During the days in the southwest border, I was so scared to witness several comrades who were cruelly massacred that I just wanted to go home. However when I looked at my comrades, I became determined to stay and fight until victory day," said Nguyen Kim Hoang.
 
The meeting was hosted by the HCMC Women's Union and Women Newspaper. The union gave 10 deposit books worth VND100 million (US$4,762) to ten former female war volunteers who were disadvantaged.