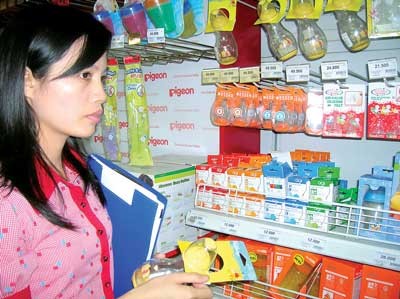 A Ministry of Health inspector checks pacifiers at Big C supermarket in HCMC. With substitutes available in plenty, fewer and fewer babies are being breastfed (Photo: SGGP)
Ministry of Health officials inspected Ho Chi Minh City supermarkets and obstetrics hospitals on September 7 for the availability of infant formula and breast milk alternatives, bottles, and pacifiers.

They found 52 such items Big C Mien Dong Supermarket in District 10, some with labels not correctly indicating ingredients and warnings.
The warnings on bottle nipples failed to carry the mandatory warning that using plastic nipples could adversely affect breastfeeding.
Formulas for babies under one were available and deputy head of the inspection team, Bui Duc Phong, said the plentiful availability of these products affects breastfeeding.
The inspectors also visited Hung Vuong Obstetrics Hospital to scrutinize what kind of breastfeeding consultation is provided.
Dr. Pham Thi Dung, deputy head of the hospital, said the hospital canteen does not sell milk products for children under one and the hospital advises pregnant women on the benefits of breastfeeding.
Mr. Phong said the reasons for the high rate of bottle-feeding are that more and more mothers deliver through surgery and take shorter breaks from work.
Dr. Dung blamed this on advertising and called for reducing advertising and providing more consultancy on the benefits of breastfeeding and taking a longer break from work after giving birth.