A free playground cum entertainment area for children was inaugurated at Gia Dinh Park in Phu Nhuan District in Ho Chi Minh City on May 30.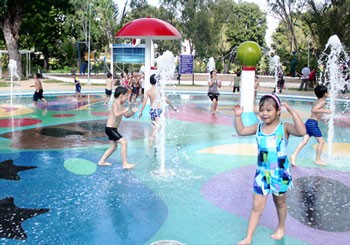 The new playground for children in Gia Dinh Park in Phu Nhuan District
The playground covers an area of around 8,300 square metres and has many excellent game facilities for children of all age groups.
The free amusement and play area for children was constructed at a cost of about VND12 billion (US$570,000).
The new playground is one among many children entertainment facilities that the Municipal People's Committee plans to build in Phu Lam Park in District 6; Le Thi Rieng in District 10; Can Gio, Binh Chanh and Nha Be Districts; Le Van Tam Park and Tao Dan Park in District 1; Gia Dinh Park in Go Vap District; and some Open Houses in HCMC.