Clause 49 of the Investment Law 2014 regulate that projects running behind schedule for more than a year must stop operation, however many large projects in the center of Ho Chi Minh City have yet to be handled for many years.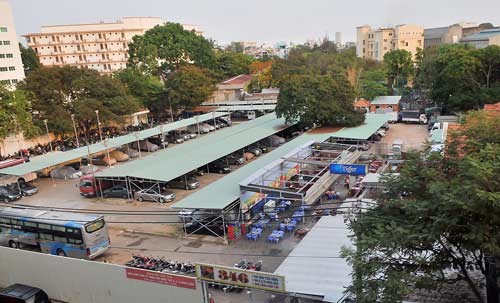 The site of Berjeya project, Ky Hoa Lake has become a parking lot for the last several years (Photo: SGGP)
They include foreign direct investment (FDI) projects such as Berjeya Ky Hoa Lake which has been stationary and become a parking lot in District 10.
According to the clause, responsibility to tackle frozen projects belongs to the Department of Planning and Investment.
While the department said that there are many reasons for behind schedule projects including objective and subjective factors. If sluggish progress is due to investors' weak ability, handing will not be complex. The department will just revoke projects and reclaim land for other investors to improve land use efficiency.
Still, it has been difficult to put an end to those slow due to objective reasons or both objective and subjective causes. For instance, compensation costs are higher than profit, households propose too high indemnity level exceeding investors' ability, authorized agencies slowly approve building project and compensation level, procedures to get building permit are too complicated, and inflation and the world's financial and economic crisis raise capital difficulties for investors.
In addition, the city has nearly 6,000 FDI projects but the agency managing post-licensing comprises only few officials, said the department. This has created a big challenge to supervise these projects and conducts steps to terminate sluggish ones as per regulations.
Because of the above difficulties, terminating operation of behind schedule projects required coordination of many agencies and instructions by the city People's Committee, the department said.