Ho Chi Minh City's public transport companies are struggling to stay afloat and have been forced to reduce the number of city bus routes, the 17th meeting of the 7th People's Council heard last week.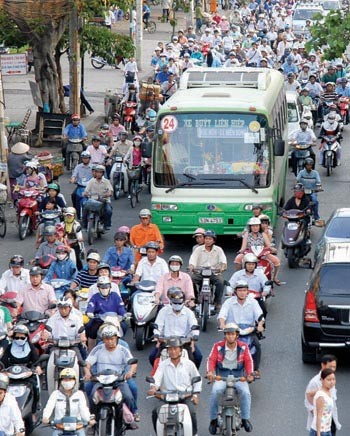 HCMC officials say it is difficult to find funding to improve public bus services without increasing the cost of bus tickets (Photo: SGGP)
In addition, more employees in the public transport sector are leaving for new careers while companies have had to expand into other transport services, delegates heard.
Continual financial losses and inadequate subsidization from the city budget were listed as the main reasons public transit suffered in HCM City.
According to some businesses, if the city wants to maintain its public bus services, subsidization must be increased or bus ticket prices must go up.
At the meeting, which wrapped up at the end of last week, officials said that in 2010 the city would likely subsidize VND700 billion (US$38 million) for bus services.
But many delegates expressed dissatisfaction with the continual increase in subsidization for buses since 2002.
The city funded just VND39 billion in 2002, but that figure skyrocketed to VND486 billion in 2006 and VND600 billion in 2009.
Meanwhile, director of the city's Department of Transport Tran Quang Phuong said that VND700 billion was still lower than needed.
According to the department's calculations, which have been assessed by the Department of Finance and the Institute of Economics, subsidization for city buses next year should be VND820 billion, not VND700 billion, said Mr. Phuong.
To make up the difference, the department will be forced to ask the city to raise bus ticket prices by VND1,000 a ticket from January 1, 2010. A ticket now costs VND3,000.
Although delegates at the meeting agreed the city's bus service must be improved to reduce traffic jams, they expressed concern about the feasibility of proposed solutions.
Some said that increasing bus ticket prices would make it harder to persuade people to travel by bus instead of personal vehicles.
Delegate Vo Van Sen said it would be unreasonable to increase ticket prices as it would affect many poor bus travelers.
Meanwhile, Nguyen Minh Hoang, former head of the city People's Council's Economic and Budget Board, said the amount of subsidization needed should not deter officials from improving city transit.
He said if buses can carry 20 percent of travelers in the city each year, it is worth subsidizing up to VND1 trillion. Bus routes have not been effectively exploited, he added, with many routes not filling more than 30 percent of bus seats.
The city's transport department said it would endeavor to seek funds to subsidize the additional VND120 billion needed for 2010. If it fails, however, the department will have no choice but to petition for an increase in the cost of bus tickets.