The Management Board for Fund 156, which helps displaced people to start a new business or take up vocational training courses, reported that since May 2007 it has created jobs for 27,325 people and supported nearly 21,568 students with VND10 billion (US$500,000) for school fees.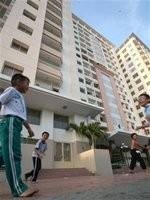 Children play at a resettlement apartment block on Nguyen Tri Phuong Street in HCMC's District 5.(Photo:SGTT)
The Board also disbursed nearly VND199 billion ($9.95 million) as loans to 9,650 people. The fund management board checked 857 cases that had borrowed capital and all the cases showed that they had used the capital appropriately and now enjoy a stable income.
In 2006, the fund was established with an initial capital of VND50 billion ($2.5 million) from the Ho Chi Minh City budget. To date, about 38 project owners in 17 districts have contributed more than VND148 billion ($7.4 million).
According to the Department of Planning and Investment list of investment capital for new projects this year, the fund expects to collect VND350 billion from project investors.
This year the fund is expected to increase by VND462 billion ($23 million).
Under city regulations, project investors must contribute 3-5% of their project investment capital towards the fund.