Shortage of capital has created setbacks for the Traffic Development Plan in Ho Chi Minh City, which is now unable to maintain schedule, according to the city Department of Transport.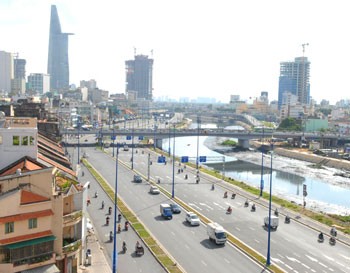 All the East West Highway officially opens to traffic in HCMC on November 20, 2011 (Photo: SGGP)
HCMC needs approximately VND60 trillion (US$2.8 billion) per year to implement the traffic plan, if it is to be complete by 2020. This is a big burden on the city, which has an annual gross domestic product (GDP) of about 420 trillion, 70 percent of which must be transferred to central budget.
Truong Quang Phuong, Director of the Department of Transport said that tens of projects are held up because of lack of capital. Amongst these is the important eastern belt road project which will help reduce truck traffic on inner city roads. The belt road project will cost the city around VND5.5 trillion (US$261 million).
Another road project connecting Hoang Dieu District in District 4 to Nguyen Van Linh Highway is also on hold as the city needs VND2 trillion (US$95 million) to complete this road which will ease traffic from the city center for southward bound traffic.
The transport department wants HCMC to build important traffic route links with provinces in the Mekong Delta. However, the road project to link East West Highway and HCMC-Trung Luong Expressway, though approved by city authorities and the Ministry of Transport, has yet to break ground.
Within the city, traffic jams continue to be a bane. The city can substantially reduce this by building four flyovers at a cost of VND40 trillion (US$1.9 million) but investors balk at the huge expenditure.
The city can just about afford to build two out of the six metro routes targeted as per plans to tackle traffic congestion.
City authorities are now turning to the private sector to help build important and essential projects.
However, response from the private sector has not been very forthcoming. The BOT (Build-Operate-Transfer) method, cannot be applied if residents are burdened with exorbitant toll fees. For BOT to be effective, a minimum distance between two toll stations must be 70 kilometers, as per government regulations.
Similarly BT (Build-Transfer) method, in which contractors spend their money to build projects and the city repays them after the works is complete, is also not feasible due to limited budget of the city, especially at a time when government is tightening public investment.
Another method is the city offers land to investors for building a road or bridge using their own funds. However, this too is not feasible as the city has no more free land to barter.
The Public-Private Partnership (PPP) method is still in pilot phase and with the present economic downturn it is not easy to mobilize capital from both private and public sectors.
The best way out is to seek ODA capital from international organizations and governments of other countries. However, Truong Quang Phuong expressed concern over this method as the economic crisis has badly affected several countries in the world, resulting in a drop in monetary bilateral assistance.