A delegation from Hessen, a western-central state of Germany met with Ho Chi Minh City's Vice Chairman, Nguyen Trung Tin on Friday. The German delegation expressed their hope to help Ho Chi Minh City develop its transport infrastructure and make it more effective.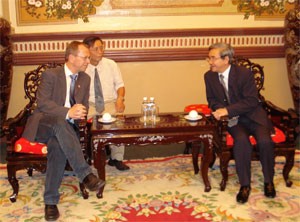 Vice Chairman Nguyen Trung Tin (R) talks with Mr. Klaus-Peter Guettler on October 19 (Photo: Thuy Hang)
The delegation was led by Mr. Klaus-Peter Guettler, the State Secretary from the Hessen Ministry for Economics, Transportation and State Development during a visit to Viet Nam from 14th to 19th October.
Several German firms mentioned their ability to take part in real estate and traffic planning projects within the city. Vice Chairman, Mr. Tin said that Ho Chi Minh City is willing to open its doors to German investors, and that clear guidelines would be guaranteed to them.

Germany is Viet Nam's biggest EU trade partner, accounting for 29% of the trade value of Viet Nam within the European Union. Two-way trade between Viet Nam and Germany exceeded US$2.3 billion in 2006.
Germany now ranks fifth amongst the EU nations who are investing in Viet Nam. with 85 direct foreign investment projects totaling approximately US$380 million.

A number of large German conglomerates such as Metro, DaimlerChrysler, Siemens and Allianz are currently operating in Viet Nam. Viet Nam ranks third among the Asian nations that Germany pledged cooperation for with development.
Since 1990, Germany has granted almost 640 million euros (approximately US$850 million) to Viet Nam, in either non-refundable aid or preferential loans.