The 276 Missile Regiment of the 367 Air Defense Division located in District 12 in Ho Chi Minh City, is affectionately called 'God's Arrow' after the Late Uncle Ho and deployed with the task of protecting the City's airspace and that of the southern provinces of the country.
Lieutenant Colonel Pham Dao Dung, head of the 276 Missile Regiment happily told reporters, "We have sufficient training and adequate weapons and supplies for the regiment to be effective".
Our air defense missile warheads are always ready for combat. These young soldiers here are on a 24/7 hour combat duty, in high spirits and enough discipline to ensure that within a minute after the alarm they will be in battle position, and the whole regiment is determined never to be taken by surprise by any outside attack.
Tran Trung Vu, 18, a native of Long An, and Le Minh Nhut, 19, from Can Tho, both new recruits this year, said, "After nearly five months of training in the field, we have grown rapidly to become good soldiers of the younger generation and are ready to take on any assigned fighting task".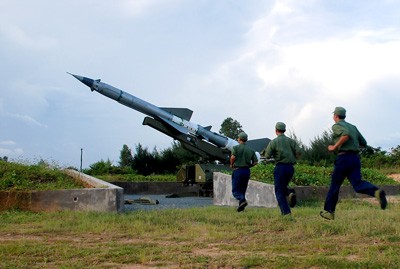 The 276 Missile Regiment is always ready for combat duty(Photo: SGGP)
These missile soldiers are not only good at training and combat readiness, but are also master innovators in modern military technology. After returning to the unit, Lt. Nguyen Dong Giang, a young officer who graduated from the Air Force Academy, has successfully implemented technical improvement on the missiles and been awarded medals by the Ministry of Defense.
Seeing these young soldiers proficient in use of modern missiles, and the ability to shoot down targets, whether they appear in lower, mid-range, long range or high altitude, the ordinary citizen has absolute faith in Uncle Ho's soldiers.
Lt. Nguyen Van Hieu, political commissar of 276 Regiment confided, "We young soldiers are proud and will continue to write the glorious traditions of the army and Vietnam War heroes. We expressed our determination to protect every inch of our City airspace that was beloved to Uncle Ho as well as the neighboring provinces; after all we are 'God's Arrow', guarding the southern sky of the motherland".

Recently, on the occasion of the 40th anniversary of the regiment, Defense Minister Phung Quang Thanh praised the achievements of the regiment and hoped that their land-to-air missile unit will achieve great heights and be hugely successful in protecting the skies over our dear Fatherland.