The award ceremony for the month long contest "The Golden Book" took place at the Ho Chi Minh City General Publishers on March 4. It is held by the organizers of the 5th Annual HCMC Book Festival.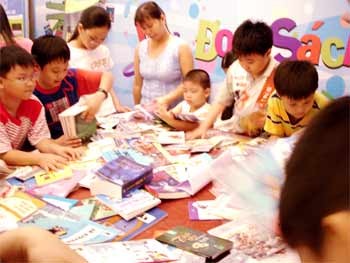 Book festival is usually held in HCMC so that the city citizen have chance of enjoying good books(Photo:U.P)
The contest consisted of 54 individuals and organizations with more than 200 books and magazines. Many of which were published over 50 years ago; some were nearly 200 years old.
There were 19 prize winners. 'Monographie dessinée de l'Indochine: Cochinchine' of the city's General Library took first prize, the second prize went to Mr. Tran Dinh Them for 'Les Origines de la Langue Annamite'. 
"Monographie Dessinée de l'Indochine: Cochinchine" is an eight-volume picture book which describes the life, traditions and customs of Southern people in the 1930s. It was published in 1935 in Paris – France. Mr. Them's book was available to the public in 1922 in Ha Noi.
In 1943 the booker prize jury gave the special prize for the most colorfully printed book "Souverains et Notabilités d'Indochine" to Mr. Do Cao Loi in Ha Noi.  The magazine Tao Dan in 1939-1940 was awarded first prize and 'Dong Duong' in 1914 by Mr. Hoang Minh.

Link:
5th HCMC Book Fair: A Tribute to Reading Culture