The building of golf courses in HCM city is making slow progress, despite the fact that some of them were granted investment licenses several years ago. Delays have been caused by low compensation and slow resettlement.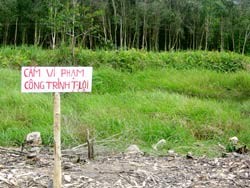 Cajuput Forest, Tan Thong Hoi Commune, Cu Chi District, will be soon cleared for a golf course
According to latest reports from the Department of Planning and Investment, HCM City has seven licensed golf course projects located in districts 2, 9, Tan Binh, Thu Duc, Binh Chanh and Cu Chi, of which, five are foreign investments.

Among the seven projects, only one has opened, five are under construction and the other, a joint venture, has been cancelled due to difference of opinions between investors.

The projects' rate of building progress is slow, mostly due to obstacles arising during the site clearance phase.

The 162 hectare golf course in An Phu Ward, District 2, by Saigon Investment and Development, was granted land in early 2001 but few families in the clearing site have agreed to receive compensation and moved to make way due to the low rates offered by the investor.

Despite investment license being granted to the 300 hectare Sing-Viet Golf Course by Sing-Viet Co. in Le Minh Xuan Commune, Binh Chanh District, nine years ago, its detailed plans for site clearance, land compensation and resettlement have now not yet been approved.

Similarly, the GS Golf Course, located on 200 hectares in Cu Chi District, by GS Cu Chi Development Co., received its investment license in 2007. The building work, however, is behind schedule due to conflicts between land owners and contractors.

At Zone B, owners of houses that occupy nearly 3.2 hectares of land have refused to move. Clashes broke out between them and contractors resulting in interruption to construction several times.

At Zone C, the clearance of more than half of the land is not making good progress as house owners do not agree with the contractor's compensation scheme.

Also according to the Department, it is considering withdrawing the investment licenses of two projects.

One is the 156 hectare Vuon Dua Golf Course in District 9, which is a joint venture between Saigontourist, Thu Duc Tourism Services Co., Thanh Nhon Real Estate and a foreign investor, Vietnam Ventures.

The Department said that the project has faced delays because the joint venture cannot find an appropriate plot of land.

To help ease the problem, in November of last year, the HCMC People's Committee proposed to lease out land at market price to help build the golf course. If the joint venture does not accept the city's People's Committee's proposal and continually lets the project be delayed, the Department will withdraw its investment license.

The other is a 160 hectare golf course by Yonwoon - Van Phuc, a joint venture, in Hiep Binh Phuoc Ward, Thu Duc District. Despite being issued an investment license in 2007, the project has not made any progress since the foreign investor failed to contribute funds.

According to current regulations, twelve months after being granted an investment license, if the project cannot be carried out, the Department will report the case to the city's People's Committee and withdraw its license.