Goods supply increases 20-30 percent

Mr. Le Vo Bich Dong, deputy head of Commerce Management Division under the Department of Industry and Trade, said that necessary goods volume prepared for the yearend shopping season has increased 15-20 percent compared to the city's plan and 20-30 percent compared to the same period last year.
The value of goods which businesses have produced and stockpiled for two months before and after the Tet holiday tops VND17.8 billion, up 4.1 percent over last year. Of these, subsidized goods value exceeds VND7 trillion.
Many groups of commodities have been prepared with large volume, able to control 32-55 market demand such as poultry, chicken egg, processed food, cattle meat, cooking oil and rice.
Consumption demand is forecast to approximate 41.1 million liters of beer and 47.2 million liters of beverage a Tet month, up 30 percent over normal; 18,000 tons of confectionaries and jams. Confectionary companies this year have supplied many new products with eye catching designs and good quality.
Supply of pork, poultry, sugar, egg and rice in the city is very abundant with prices being stable since early this year. Some products such as seafood, vegetable and fruit saw a reduction in October and November because of long lasting rain and flooding. It is forecast that fresh food supply will be increased, prices will be stable and reduce near the Tet. Other necessary product provision will be abundant with steady prices.
Concerns about quality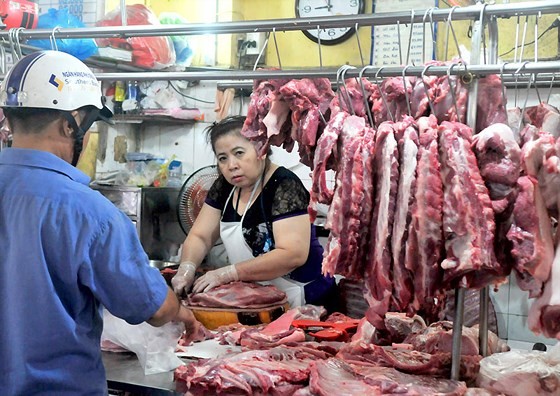 A pork stall in a market in HCMC (Photo: SGGP)
Many delegates at the meeting concerned that overlapping in goods quality and food safety supervision among agencies and Food Safety Management Board has created loopholes for low quality goods to flood the market.
Notably, fake meat has occurred for the last two years with sow meat counterfeiting other types of meat.
Inspection of banned products such as firecracker has met with difficulties as the product has been transformed into other products such as flares and firework.
A representative of HCMC Police Department suggested relevant agencies including economic police, traffic police, market management and veterinary agency to work closely together to prevent counterfeits and low quality goods from entering HCMC right at city entrance gateways. If these consignments can enter areas inner the city, no authorized agency can control them from circulating in the market.
Sharing the same view, Mr. Nguyen Van Bach, deputy head of Market Management Department, said that authorized agencies should together inspect and supervise production and business establishments, large warehouses and the system of cold storages to prevent out of date commodities from being confused with other goods to flock into the market in coming peak shopping time.
Faked goods have not only run into small shops with low prices but also high class shops and sold at exorbitant prices. Therefore market management agency is now working with producers, shop owners and suppliers to inspect, compare real and fake products to strictly tackle the issue.
At the meeting, agencies also reported difficulties in taking samples of consignments for testing. According to regulations, authorized agencies are permitted to keep consignments within 24 hours even though there is testing results of samples or not.
Hence, it is needed to buy fast sample testing equipment for food and invest in specialized storages to keep consignments. That will create the best conditions for authorized agencies to inspect and supervise the market in the yearend time.
In the month near the Tet festival, businesses in HCMC will organize 1,500 promotional seasons to stimulate consumption demand, focusing on products such as beverage, confectionary and clothes with the total promotional value of VND1.5 trillion.
Subsidized goods companies and distribution systems have built a promotional plan with big discounts in days near the Tet.
Licensing of fairs and promotional programs comes within the jurisdiction of the Department of Industry and Trade. Goods quality and price supervision is undertaken by market management divisions in districts in coordination with the agency's inspectors.