Ho Chi Minh City People's Committee issued a decision to help salt farmers consume salt in stock.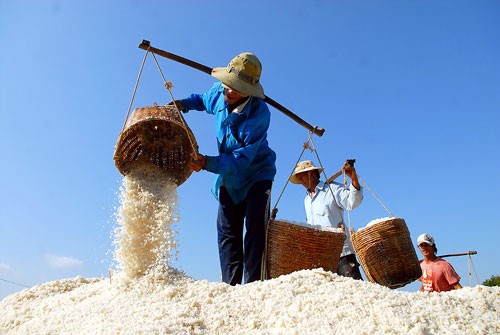 Farmers in Can Gio harvest salt (Photo: SGGP)
The city will buy all salt in stock by production cost plus 30 percent of the cost as profit and transport fee. Director of the Department of Agriculture and Rural Development Nguyen Phuoc Trung said that all salt in farmers' stock in HCMC's Can Gio District has been bought.
Though only Can Gio makes salt, it productivity accounts for 10 percent of the country this year with 140,000 tons of salt, 4.6 percent higher than 2015.
Salt prices in 2016 continued to decrease, even lower than production cost by VND233-339 per kilogram. Worse, farmers could not sell it. As of July, 2016, 95,000 tons of salt were not consumed in farmers' warehouse.
Because low prices and difficult consumption, Can Gio administrators planned encouraging farmers to transfer to tree growing and animal breeding which bring more profit for farmers. Additionally, the district petitioned the municipal People's Committee to call for investment of salt processing factor in the district t to improve competitiveness thus helping to raise farmers' income.