The 'Green Consumption Campaign 2012' was kicked off on Saturday at the Youth Cultural House in Ho Chi Minh City.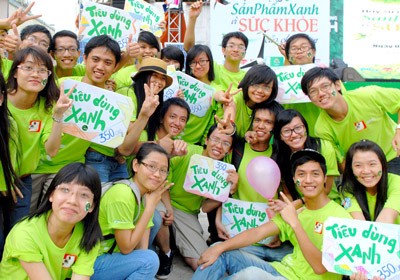 Student volunteers at the 'Green Consumption Campaign 2012' in HCMC (Photo: SGGP)
The campaign will call on people to consume more environment friendly products and encourage businesses to increase their responsibility towards the community and the environment and act accordingly.
More than 7,000 students and city residents are so far participating in the campaign, which has also lured nearly 300 volunteers from various universities in the city.
A slew of activities and events will take place from now until the end of June.
Speaking at the ceremony, Pham Duc Hien, Deputy Editor-in-chief of Sai Gon Giai Phong Newspaper and deputy head of the campaign's steering committee, said that reducing environment pollution was the main focus of the campaign in HCMC from now until 2015.
This will need not only a great amount of collective effort from authorised organisations, but also support from the public in general.
The 'Green Consumption Campaign' has been launched each year since 2010, and has attracted participation of thousands of volunteers and millions of city residents.