The Green Enterprise Award, a program aiming to encourage industrial companies to care for the environment, drew to a close on Tuesday with 13 prizes given out to 11 companies.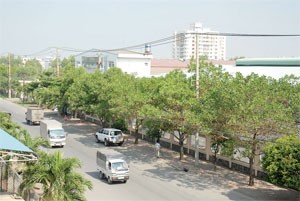 Green trees in Tan Tao Industrial Zone in Binh Chanh District, Ho Chi Minh City

The program was launched two months ago by the Sai Gon Giai Phong and HCMC Department of Natural Resources and the Environment.

Awards given out include one special prize, three first prizes, two second prizes and three third prizes. A further four prizes are given for companies that: 1) develop advanced waste treatment technology 2) raise public awareness about environmental issues 3) research and develop solutions to environmental problems or 4) successfully recycle waste products.

Besides receiving certificates for environmentally-friendly technologies and production processes, the award winners also win the right to use the "Green Enterprise" logo on their product labels.

The award ceremony will be broadcast live on HCMC Television's Channel 9 on Thursday.